Paacord Survival Bracelets by Ray Redmon
survivalstrapsbyray@gmail.com                                              727 637-5838   Text or Call!!!!!!
This tough, non-rotting, nylon cord is capable of supporting up to 550 pounds, and can be easily unraveled to assist in emergency situations. Survival bracelets are ideal for camping, boating, hunting, hiking, and much more. The cord can be used for anything requiring great strength & durability. The core contains seven (7) removable inner strands that can also be used for a variety of things. Paracord bracelets are a fashion statement, but those in the military and people who enjoy the outdoors continue to put them to practical use. A paracord bracelet provides a convenient and compact way to carry a large amount of cord to be used for emergencies, as an outdoor survival tool, or merely for securing a piece of equipment.It would be difficult to imagine a survival kit that does not include a length of paracord. Uses for paracord are endless and are only limited by a person's imagination. Here are a few ideas. . ..  Build/Rig a Shelter or as a Ridgeline for a Tarp  Repair/Secure Equipment or use as vehicle tie-down  Hang food up from wild animals (bear bag)  Use as a tourniquet or to secure a splint  Make a net, snare, fishing line, stringer for fish or animal restraints  String for a firebow or a makeshift hunting bow  Tooth floss, Clothesline, Sewing, Shoelaces and Anything else you can think of ...
These are also becoming popular with local Gulf fishermen.  They request them to fit on thier ankles, so the bracelet doesn't get caught up in the nets or fishing lines.  Great idea, hate to go overboard without some paracord on hand, or foot...
*Special requests available depending on color availability*
 The Cobra - ¾" wide - contains approximately 8 feet of paracord - $12

 The Super Cobra -- 7/8" wide -- contains approximately 12 feet of paracord - $14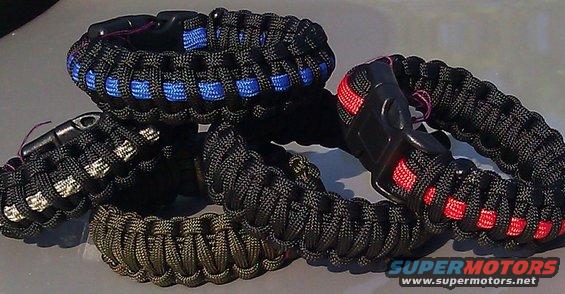  The King Cobra -- 1 1/8" wide -- contains approximately 18 feet of paracord - $20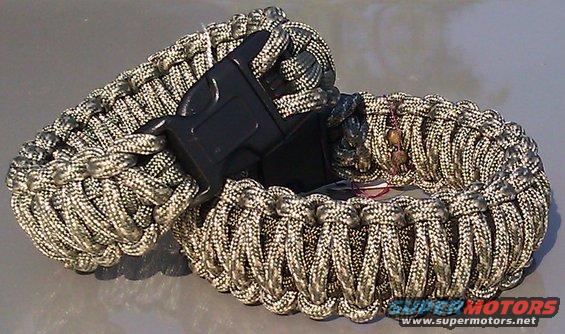  Key Fobs -- contain 3-5 feet of paracord
o Basic key fob with one key ring - $8 o Premium key fob with one key ring and one trigger snap - $12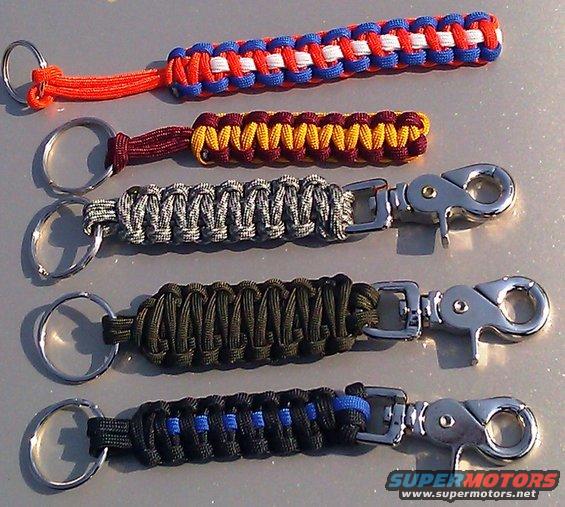 ***To measure your wrist, use a fabric tape measure where you want the bracelet to fit.  They are sized to fit your wrist and are 
not
 adjustable.  They may shrink slightly, about 1/8".  If you don't have a tape measure, you can use a string or dental floss, hopefully you have one of those laying around. Wrap the string around your wrist (not tight, it shouldn't be digging into your skin) where it feels confortable.  Mark it where it starts to overlap.  Then lay it flat on a ruler or tape measure.  Try to get me a measurement as clost to the 1/8" as you can.